Sea Salt Neroli Candle
(8.1 oz, 230 g)
|
In stock
Enhance your décor and extend your favorite fragrance into your entire home with our beautiful patterned glass Candle. Made with vegetable wax, beeswax, essential oils and other thoughtfully chosen ingredients. Burn time: 45 hours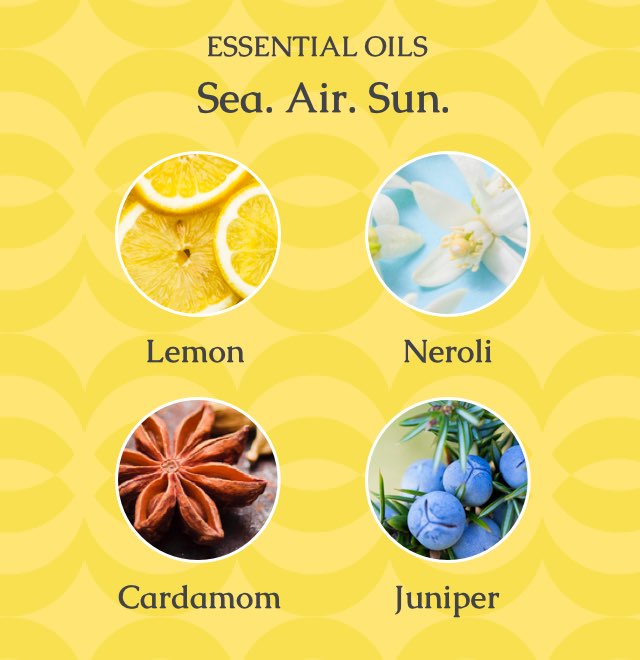 Sea Salt Neroli
Spend long summer days sipping on lemonade while cruising on a yellow scooter. You pause to feel the pure, raw mist of the ocean. This refreshing simplicity is Sea Salt Neroli.
Sea Salt Neroli Candle
Free of Phthalates, Paraffin, Lead
| Ingredients | What is it? | What does it Do? |
| --- | --- | --- |
| Vegetable Wax Base | renewable wax from a mix of soy, palm, and coconut ingredients | earth-friendly wax that burns cleanly, delivers fragrance and ambiance |
| Beeswax | wax from honeycomb | helps to modify burn performance of candles |
| Fragrance | smells great and provides an aromatherapeutic experience | mixture of high-quality essential oils and synthetic fragrance ingredients |
| Paper and Cotton Wick | paper and cotton wick | provides burn time for candles |
| Juniperus Virginiana (Cedarwood) Oil | essential oil | provides fragrance |
| Citrus Reticulata (Tangerine) Leaf Oil | essential oil | provides fragrance |
Remove all packaging before lighting candle. Always place candle on a heat resistant surface. Before lighting, trim wick to 1/4".
COMMON QUESTIONS
Q. Do your wicks contain any metal?
A. No. Our wicks are composed of paper and cotton only.